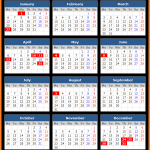 Check Northern Territory (Australia) Public holidays for the calendar year 2020. Check 2020 public holidays dates in Australia for New Year's Day, Australia Day, Good Friday, Easter Saturday, Easter Monday, ANZAC Day, May Day, Queen's Birthday, Picnic Day and Christmas.
Northern Territory Public Holidays 2020
No
Month
Day
Week Day
Holiday
1
January
1
Wednesday
New Year's Day
2
January
27
Monday
Australia Day
3
April
10
Friday
Good Friday
4
April
11
Saturday
Easter Saturday
5
April
13
Monday
Easter Monday
6
April
25
Saturday
ANZAC Day
7
May
4
Monday
May Day
8
June
8
Monday
Queen's Birthday
9
August
3
Monday
Picnic Day
10
December
24
Thursday
Christmas Eve**
11
December
25
Friday
Christmas
12
December
28
Monday
Additional Day
13
December
31
Thursday
New Year's Eve**
Note –
**A part-day public holiday from 7pm to midnight.
When Boxing Day falls on a Saturday, the following Monday is the public holiday. If Boxing Day falls on a Sunday or Monday, the following Tuesday is the public holiday.
Northern Territory Regional Public holidays 2020 –
Regional holidays are held in the regions on their annual show days.
Northern Territory Regional Public holidays 2020
No
Month
Day
Week Day
Holiday
1
January
26
Friday
Borroloola Show Day
2
July
3
Friday
Alice Springs Show Day
3
July
10
Friday
Tennant Creek Show Day
4
July
17
Friday
Katherine Show Day
5
July
24
Friday
Darwin Show Day